With the World Cup well and truly buried (as well as Emile Heskey's international career), it's time to look forward to the new season. And obviously the first way to gauge how your team's going to do is via the kit they've chosen to wear for 9 months. So allow me to become the footballing equivalent of Karl Lagerfeld and guide you through what your team is sporting for the coming season.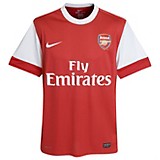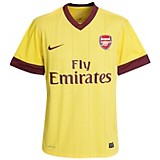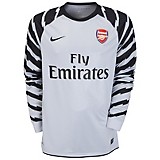 The home kit is very simple but works so well. Not convinced on the goalkeeper's shirt, with the crazy lightning-like stripes on the sleeves. The away kit has returned to yellow, which is the colour Arsenal away kits should be. The 'redcurrant' pays homage to the Woolwich Arsenal days, like the home kit from 05/06 from the last Highbury season. Solid effort but I sort of get a Gryffindor vibe off the away kit. May as well tie in a film deal. Arsenal are of course still sponsored by Fly Emirates.
Verdict – 7/10
Aston Villa's claret and blue remains but there's some changes from last year. Firstly, new sponsor in FxPro(Fulham share the same sponsor). Also  for some bizarre reason, Villa/Nike have chosen to have a chequered design down the side.  Don't particularly understand why unless they fancy adding several Croatians to the side to make it valid. No blue outline around the collar this time.
The away kit is a bog standard black affair, again with the claret and blue chequered down the side. I assume it's black to appease John Carew and Emile Heskey, not the slimmest of lads. Not a terrible kit by any means, I remember Villa's away kit from 93 to 95
Verdict 6/10
Their West Midlands rivals told the fans to vote for their favourite home kit at the end of the season. They went for the white chevron option, which I think is a good choice. F&C Investments continue their sponsorship of the Blues but the kit is now made by Chinese sportwear company Xtep, a decision mostly likely made by Hong Kong millionaire owner Carson Yeung. The away kit is plain and simple, which is what an away kit should be. Nothing fancy
Verdict – 7/10
Umbro once again continue their 'Tailored by Umbro' campaign and have produced a traditional set of kits for Blackburn. The vintage look works very well indeed, simplicity at its best. The away kit is all red for this season, with a black trim. Both are better than last year's efforts, and if you're a Blackburn fan crying out for new colours, I don't understand you. Blackburn are still sponsored by Crown Paints
Verdict – 8/10
The Premier League turns tangerine and Blackpool have earned themselves some Wonga for the season. Ignoring the very bad pun, they are indeed sponsored by finance company Wonga.com. Pretty standard kit from Cabrini. All orange with a white collar. Simple and unfortunately the only season we'll see this kit (yes I've joined the relegation parade before a ball is kicked)
Verdict – 6/10 (gains an extra point for the sponsor)
Finally, we have an abombination of a kit. I haven't even edited this picture from the website. The kit looks like it's in a heavenly place but it belongs in 'Football Shirt Hell'. Or a bargain bin.
Bolton are again sponsored by 188BET (along with Wigan) and where do I start here? Firstly the red piping is just weird and all over the place. Next we have the sort of navy undone cravat shape around the collar. Don't know why that's there. Finally along the shoulders we have a massive Reebok logo. Just in case you didn't know that Bolton are associated with Reebok.
Chavs will love it. I hate it, a horrible mish mash of ideas that could have been done so much better. An away kit has yet to be released, but I fear for the worst.
Verdict – 2/10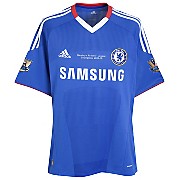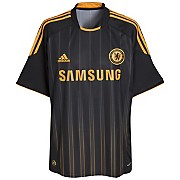 The champions kit has been out for a while now. In fact they wore it in the FA Cup Final. So this home kit has a perfect record. But it's anything from perfect. The red collar is a bit strange, although I approve of the V-neck shape itself.  I also think the badge and sponsors are a bit too close together really. Otherwise the usual Adidas kit design is there.
The away kit I like. Orange and black are a good combo (yeah because I'm a football fashionista. However it looks like a Wolves away kit to me, not a Chelsea one. I suppose that happens when you chuck out loads of colours each year. Not a big fan of the orange stripe bit towards the bottom (technical terms there). Still it's better than looking like a steward.
Overall average. Chelsea are sponsored by Samsung.
Overall 6/10
Oh Everton. Why do you let yourself be sponsored by LeCoq Sportif. I've seen them make one good kit in their history (a French national kit I cannot find). But wow. Home kit doesn't really need discussion here. It's fairly standard and simple and I'm glad they've got rid of the Dairylea triangle bib from last year's kit.
But my god is the away kit bad. Last year's wasn't good either, although I liked the concept of black and neon pink. The execution was lacking though, and this year's designer deserves some sort of metaphorical execution. Pink kits work if you go for a pastel pink (like Palermo) but bright neon is a no no. Don't even like the dark blue splodge across it either.
And guess what we'll see this shirt at least 5 times. Hoorah for chavtastic kits. Everton are sponsored by Chang Beer once again.
Verdict – 3/10 (home kit would get a 7 by itself)
Roy Hodgson has gone and so has big sponsor Nike. Kappa now produce the kit and it's not a bad effort. Again simplicity works well, although the kit is slightly ruined by the decision to put the sponsor way up the shirt. Otherwise a good effort. Away shirt yet to be revealed, although I'd expect a red/black shirt.
Verdict – 5/10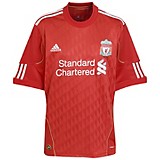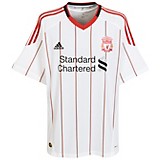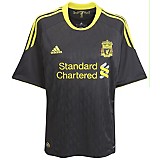 Arguably the biggest talking point is saved til last. Liverpool without Carlsberg as a sponsor. I never thought I'd see the day but as Carlsberg say 'If Carlsberg made a football team', it wouldn't be the state Liverpool is currently in.
Standard Chartered take up the mantle as club sponsor. The home shirt is of course blood red, but with some strange decisions, mainly the gap in the Adidas stripes. I like the use of the triangle pattern, that works quite well. The away kit I dislike purely on the basis of the vastly spread apart pin-stripes. Why are they there?
The third kit, again part of the Adidas neon piping range, would be good without one major flaw. The neon club badge. Ghastly. But weirdly enough, this is one of Liverpool's best shirt designs in recent years because they usually get it very wrong. Like grey, who wears grey.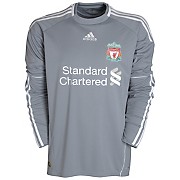 Damn it. You were so close Liverpool until you gave Pepe Reina a shade of grey to wear.
Verdict – 5/10
So there are the first 10 clubs. Join me soon to look at the Manchester club kits and hopefully no Newcastle away kit in sight. All kits are available in club shops and all good sportswear stores and sites. My preference – Kitbag.